Last updated: 10 September 2020
England only, unless local lockdown restrictions apply: https://www.gov.uk/government/collections/local-restrictions-areas-with-an-outbreak-of-coronavirus-covid-19
Food businesses that prepare and serve food only for take-away or delivery have been allowed to trade during lockdown (https://www.gov.uk/government/publications/further-businesses-and-premises-to-close/further-businesses-and-premises-to-close-guidance)
From 4th July 2020 many more businesses can reopen, including food and drink businesses selling food for consumption at venues, both indoors and outdoors.
The Government's Working Safely guidance contains a new chapter for restaurants, pubs, bars and takeaway services which clarifies the rules and the expectations of government on these types of food business. https://www.gov.uk/guidance/working-safely-during-coronavirus-covid-19/restaurants-offering-takeaway-or-delivery
This annex of the Retail Guide will help you by bringing together in one place, all the tasks and topics that you as the Food Business Operator (FBO) need to think about prior to and during reopening as well as beyond. It draws together some of the most important and reputable external sources and provides links for further information and help, so you can select which are the most suitable for your needs.
Which outlets does this apply to?
Restaurants – pubs – bars – beer gardens – takeaways – deliveries – cafes – social clubs with bars and restaurants – mobile catering
Anything excluded?
Food preparation and service in clinical or healthcare settings
All food businesses operators (FBOs) must consider the risk from COVID-19 as part of their existing Food Safety Management System
First things first – the basics
Whether you are a new food business, or are about to re-open or have been doing it for a while, here are some links to some basic information from reputable sources:
The Business Companion Food & Drink guide (see https://www.businesscompanion.info/en/quick-guides/food-and-drink)
The Food Standards Agency (FSA) is the government department responsible for food safety and food hygiene in England, Wales and Northern Ireland. It works in partnership with local authorities to help ensure food stays safe and honest. The responsibility for complying with the law remains with the food business operator – the FBO. The FSA's website contains lots of information, written for businesses, which explains what any food business should be doing when starting up or operating a food business.
https://www.food.gov.uk/business-guidance
If you haven't already done so, register your food business with the environmental health (or food safety) team in your local authority. Why? So local authorities know that you're there and can help you get things right from the start. In time, you will also be inspected by your local authority and receive a hygiene rating. Evidence shows that businesses with a high rating helps them win more customers! For more information see: https://www.food.gov.uk/business-guidance/register-a-food-business#food-hygiene-rating-scheme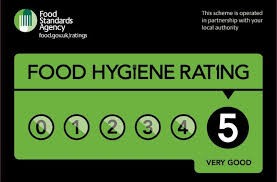 Don't know who your local authority is? Search using your postcode, here: https://www.gov.uk/find-local-council. Many local authority websites provide additional food safety and COVID-19 advice and support for businesses in their areas.
For take-aways and delivery businesses
Take-aways and delivery businesses have been allowed to operate during lockdown, providing certain safety measures have been put into place. The required measures would have been identified via a risk assessment carried out by the FBO.
The nature of take-away and delivery arrangements can mean that managing some of the food safety aspects takes more work and planning than providing food from a venue. Things like food packaging for transport, maintaining safe temperatures during delivery, controlling queues during collection, communicating allergen information at a distance –are all additional things for an FBO to manage in a take-away/delivery environment.
Guidance from the FSA and from the CIEH has been produced to help with this task and is available here:
The CIEH has produced 'Food delivery and takeaway guidance' https://www.cieh.org/media/4070/covid-19-food-delivery-and-takeaway-guidance.pdf
The FSA has produced 'Food safety for food delivery' https://www.food.gov.uk/business-guidance/food-safety-for-food-delivery
Getting ready to reopen?
If you're getting ready to reopen as a…
restaurant – pubs– bar – beer garden – takeaway –– cafe – social club with bar and restaurant – mobile catering
…the FSA has developed a suite of guidance which will be very helpful to your preparations: https://www.food.gov.uk/business-guidance/reopening-and-adapting-your-food-business-during-covid-19
Also available from the FSA is a reopening checklist with supporting guidance for each element. https://www.food.gov.uk/business-guidance/reopening-checklist-for-food-businesses-during-covid-19
It includes the following topics with additional links for further reading:
Updating your local authority with any changes
Updating your Food Safety Management System with your COVID-19 risk assessment, it's findings and any change to procedures needed as a result
Fitness for work procedures
PPE and its laundry/replacement
Waste
Cleaning food prep areas and equipment
Stocking up on cleaning materials and re-train staff on their use, if needed
Enhancing cleaning and disinfection as required by your assessment
Checking for pests
Stocking up on handwashing materials (soap, sanitiser, paper towels)
Checking hot and cold water availability
Flushing dishwashers and glasswashers, taps and other equipment
Equipment checks – probe thermometers, fridges, chillers, ovens, freezers all working to required temperatures
Legionella risks – see guidance from the HSE and CIEH to help you reduce these risks
https://www.hse.gov.uk/legionnaires/
https://www.cieh.org/media/4208/legionella-guidance-covid-19.pdf
Ingredients – use-by and best before dates, any damage to packaging, obtaining new supplies from reputable suppliers
Allergen information
Ventilation (and fly screens if required)
Social distancing measures
The Government's 'Guidance for food businesses on coronavirus (COVID-19)' has been updated and will also be useful: https://www.gov.uk/government/publications/covid-19-guidance-for-food-businesses/guidance-for-food-businesses-on-coronavirus-covid-19
It focuses more on staffing issues around COVID-19 and how to manage them. Additional links to other sources, such as 'fitness to work' guidance and PHE guidance on cleaning, are also linked. Key elements are:
Symptoms of COVID-19 – recognising and acting upon
Food and COVID-19
Preventing and managing outbreaks
Risk assessment and the legal requirements of it
Communicating with employees
Accommodation and transport
Managing entry into a food production area
Working arrangements, hygiene, distancing and monitoring compliance with it
Adjusting shifts to reduce density and help with social distancing
Communal areas
Staff canteens and restaurants
The cohort approach
Workstations and designated working areas
Contact tracing
Supporting those who self-isolate and returning to work
Cleaning and waste disposal
Need some signage?
The Chartered Institute of Environmental Health (CIEH) represents environmental health professionals and has produced a collection of free resources for businesses and professionals relating to COVID-19. This includes topics like signage, handwashing guidance and Legionnaires' disease https://www.cieh.org/policy/coronavirus-covid-19/resources/
A COVID-19 risk assessment for a food business
Managing risk
There are 6 key priorities in the Government's guidance about managing risk. These drive the steps that you will need to take.
Keeping those who are unwell out of the venue (workers, customers, drivers, visitors etc.)
Increasing the frequency of handwashing and surface cleaning
Whether working from home or within the workplace, people must be safe. Workplaces should make every reasonable effort to comply with social distancing guidelines. This is ideally 2 metres. If 2 metres is not viable, then 1 metre + risk mitigation measures is acceptable
The activity may need to be redesigned to achieve social distancing requirements.
Further mitigating actions include – extra handwashing and surface cleaning, shortening activity time, using screens or barriers, using back-to-back or side-to-side working (not face-to-face), using fixed teams or partnering
If face-to-face is the only option and it's for a sustained period with several people, then re-assess whether the activity can safely go ahead.
Remember that:
No-one is obliged to work in an unsafe environment; and
Have regard to workers who might be especially vulnerable to COVID-19
https://www.gov.uk/government/publications/guidance-on-shielding-and-protecting-extremely-vulnerable-persons-from-covid-19/guidance-on-shielding-and-protecting-extremely-vulnerable-persons-from-covid-19#work-and-employment
Your risk assessment
The Retail Guide explains how to carry out a COVID-19 risk assessment for any retail business. For a food retail business, it's a little different.
A risk assessment for COVID-19 is the most important part of your reopening preparations as it will help you determine what measures you need to put into place for your particular operation. It is also a legal requirement.
In a food business it should become part and parcel of your existing Food Safety Management System – whether you have a SFFB system (Safer Food Better Business, for more simple food production https://www.food.gov.uk/business-guidance/safer-food-better-business or something else equivalent. Or you might be using a full HACCP system (Hazard Analysis and Critical Control Point, suitable for more complex operations).
As the FBO of a food business, you must ensure that your Food Safety Management System identifies and addresses the risks presented by COVID-19 in a food environment, reducing those risks to the lowest possible level that you reasonably can (recognising that you cannot completely eliminate the risk of COVID-19).
This means the risks that COVID-19 presents to food and its preparation, storage, production and sale etc. Also, the risks that COVID-19 presents to your workers, customers, delivery drivers bringing you supplies or taking away your waste, etc. In fact, every activity that your business carries out.
Happily, the links in the 'Getting ready to open?' section above, will walk you through all the things you should include in your risk assessment and in your reopening preparations.
COVID-19 is not known to be transmitted by exposure to food itself. COVID-19 can survive on hard surfaces for up to three days, so this could include food packaging and food preparation areas.
Don't forget to:
Document any changes you make
Keep a note of the start-up checks that you do
Tell your local authority if you are starting up again after a period of closure and of any changes – this includes diversification into take-away/delivery, if you choose to do it
Share the results of your risk assessment with your workforce and consider publishing the results on your website. For businesses with more than 50 workers, the Government expects this
NHS Test and Trace
A new requirement of all businesses as a result of COVID-19 is that they keep a temporary record of all customers and visitors (and workers, if appropriate), in a way that is manageable. It's likely that you already record details as part of a booking process.
See the latest information here: https://www.gov.uk/guidance/maintaining-records-of-staff-customers-and-visitors-to-support-nhs-test-and-trace
Remember that it is not your responsibility to check the accuracy of the information given to you by others.
People are entitled to refuse if they wish, in which case, you must not pass their details to Test and Trace, in the event of you being asked for it.
By doing so, you will be readily able to help the work of NHS Test and Trace if they should contact you. This might help contain future outbreaks.
All done?
If you've completed all the above, you're ready to proudly display this certificate on your premises – and online too, if you want to!
https://assets.publishing.service.gov.uk/media/5eb96e36d3bf7f5d4043931f/staying-covid-19-secure-accessible.pdf