Last updated: 28 August 2020
Who is this for?
This Retail Guide is written for retailers across all sectors in England all sectors in England, unless local restrictions are in place. See here for the latest guidance on local restrictions: https://www.gov.uk/government/collections/local-restrictions-areas-with-an-outbreak-of-coronavirus-covid-19
It draws primarily from the Government's 'Working safely during coronavirus (COVID-19)' guidance, produced in its original format on 11th May 2020 and updated several times since. This Retail Guide summarises the elements of Working Safely that are likely to be most relevant to retailers when they are allowed to open for business and in preparation for it.
Check here to see if your business is allowed to be open: https://www.gov.uk/government/publications/further-businesses-and-premises-to-close/further-businesses-and-premises-to-close-guidance [at today's date, 26th May, this link hasn't yet been updated with the 25th May changes]
Working Safely has been produced to help employers get their businesses back up and running, safely, whilst giving people the confidence to go back to work, thus protecting jobs and restoring livelihoods. In doing so, it is hoped that the economy will restart and jobs will be protected. The full document has been produced with input from 250+ organisations, including business representatives and industry bodies, Public Health England (PHE) and the Health and Safety Executive (HSE). It can be accessed here: https://www.gov.uk/guidance/working-safely-during-coronavirus-covid-19
This guide will be updated periodically following changes to the Government's guidance.
The 5 steps to working safely
These apply to all business types:
Help people to work from home. This means ensuring they have the right equipment, remembering to include them in meetings and updates as well as looking after their physical and mental wellbeing.

A COVID-19 risk assessment must be carried out to establish what arrangements will be needed. Do this in consultation with unions or workers, as best you can

Maintain 2-metre social distancing, wherever possible (via workstation redesign, altering work activities, staggering start/ finish times, etc). Where 2-metres is not viable, then 1-metre + risk mitigation measures, is acceptable

Keep activity time short, use physical screens, back-to-back or side-to-side working, fixed teams or partnering, etc

Enhanced cleaning - more frequently and including handwashing, door handles, keyboards and other frequently touched surfaces.
This guide will explain each of these five points in more detail as they might apply in a retail environment.
What do we mean by 'retail'?
A retail business is one which sells goods or services directly to a consumer for their own use. Typically, a retailer doesn't manufacturer their own items, but instead purchases them from a manufacturer or wholesaler for onward trade.
Retailers may be independent or part of a retail chain. A retailer could also be a franchise with a trademarked name and pre-determined products and it could also be a dealership, licenced to sell a brand of products.
Retailers operate as shops (and 'pop-ups'), department stores, supermarkets, market stalls, homewares, electricals, pharmacies, jewellers, charity shops, banks and betting shops and arcades, to name but a few. Retailers also retail online - especially during COVID-19.
To make this guide as useful as possible, 'retail' is given the widest possible definition and aims to provide all the information that all types of retailer should be aware of, whatever the size of the business or the nature of its retail activity.
COVID-19 - the virus
A little reminder of why this is all so important.
COVID-19 is a highly contagious virus. It sticks to all sorts of surfaces, including skin and can survive for several days - the latest research suggests 48-72 hours. It passes between people via touch and via the air, so people who are too close to each other are able to breathe in infected droplets and become infected. If touching a contaminated surface, hands can transfer the virus to the eyes, nose or mouth and enter the body, causing infection.
There are things that every retail workplace can do to minimise the spread of COVID-19.
Preparation is everything
It is clear that a retailer's decision to go back to work amid the COVID-19 pandemic is not a straightforward one. Every workplace is different, there is a lot to consider and therefore the steps a retailer will need to take and the time it needs to prepare for trading again, will also vary.
The Regulations set out the baseline - they determine which businesses can open and which cannot
Working Safely focuses on the economy and the workforce
You as a retailer have an added dimension to consider because your responsibilities extend beyond the workforce to your customers and others that might visit your premises
Customers visiting your shop introduce new elements of risk; they may be unfamiliar with the 'rules' of COVID-19; they may choose to ignore them; they might not be able to read your instructions on site or to comply with them.
As the employer, you are responsible for making sure that people can work for you safely and that all others can come onto your premises safely.
This guide aims to help you prepare for getting your retail operation up and running again, when you're allowed to.
Your first step
Why not download and keep to hand the Government's COVID-19 poster, while you work towards the achieving its five goals? It's a good, quick reference to what you will need to do before trading again. You can find it in section 1, here: https://www.gov.uk/guidance/working-safely-during-coronavirus-covid-19/shops-and-branches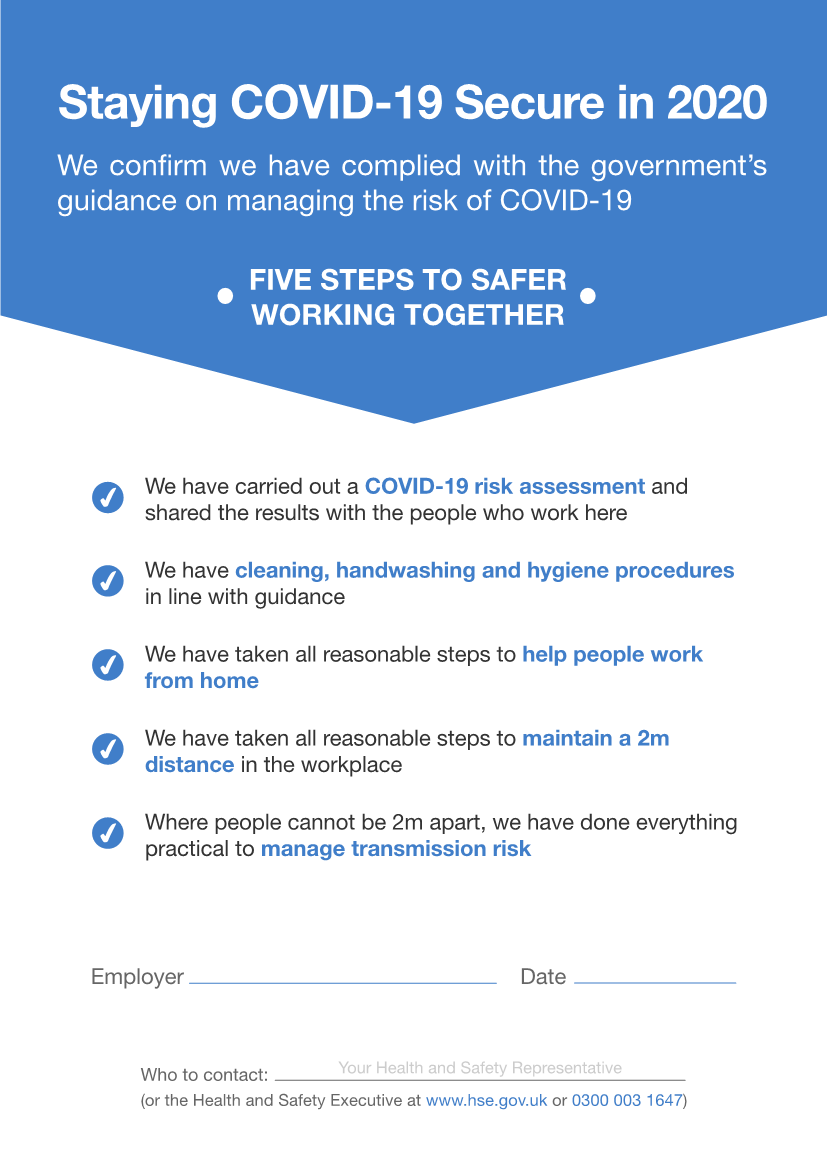 My responsibilities - what do I need to do?
A COVID-19 risk assessment
Risk assessment plays a vital role in the return to work process for retailers.
Your risk assessment depends very much on the nature of your retail activity - how many people you employ, what you are selling, how you sell and where you sell it.
As an employer, you already have many different responsibilities towards those you employ. You also have responsibilities to others as a result of your activities - this includes members of the public (your customers) and contractors, visitors, delivery drivers who bring you supplies etc. The most important of these responsibilities are health and safety responsibilities. The law makes it clear that you are responsible for the health and safety of your employees and 'others' - 'others' is a broad 'catch-all' for everyone else who may be affected by your work.
You must take the right precautions to reduce the risks of workplace dangers and provide a safe environment for anyone who comes into it.
As a responsible employer before COVID-19, you will already have been doing this.
Therefore, you will already be protecting your employees, and others, from harm. As a reminder, you can find some simple tips on what this means in practice, from the Health and Safety Executive's (HSE) website https://www.hse.gov.uk/retail/getting-started.htm
These tips are written for a retail audience and they will guide you through what you need to do. Health and safety doesn't need to be complicated or difficult. It's logical and usually only consists of a few basic steps in a retail environment.
The minimum is usually:
Identify what could cause injury or illness in your business (i.e. what are the hazards)
Decide how likely it is that someone could be harmed (this is the 'risk')
Take steps or action to eliminate that risk, or if you can't eliminate it, then control it
Write down your findings (if you employ 5 or more people) - the HSE provides a risk assessment template for this. If fewer than 5, share verbally
Review the controls later on to make sure they're still working, or if you have new staff or processes etc.
Share the results of your risk assessment with your workers.
Involve your employees when doing this (and any union reps, if you have them), as they are often the best people to understand the hazards and how to work safely.
That's it - risk assessment!
Larger, or more complex businesses which might be higher risk might need to do more.
The government expects that businesses with more than 50 workers will share it's risk assessment online - customers may welcome sight of it.
COVID-19 as a workplace risk
Think of COVID-19 as another workplace hazard that you need to risk assess and protect others from. This means you must do everything 'reasonably practicable' to manage the risk of COVID-19 in your workplace. The best way to do this is to follow the government's guidance, which is based on guidance from Public Health England (PHE).
How do I do a COVID-19 risk assessment?
Here's how to do a COVID-19 risk assessment in a retail environment, following the principles of health and safety risk assessment already outlined above.
Treat COVID-19 as a workplace hazard and think about how/where it might present itself in your workplace. Think about your employees, contractors, apprentices, customers, visitors, delivery drivers and anyone else who comes onto your premises. Include in this the needs of vulnerable people, such as those who may not understand your instructions or be physically unable to follow them. Vulnerability also includes consideration for those who are more likely to be susceptible to contracting the virus.
The main steps are shown in this image, in the order you should consider them and are explored in more detail in the rest of this chapter.
The findings of your risk assessment will guide you to the things you need to do in your business to minimise the risk presented by COVID-19.
Completing the assessment and putting in place sufficient measure - are legal requirements!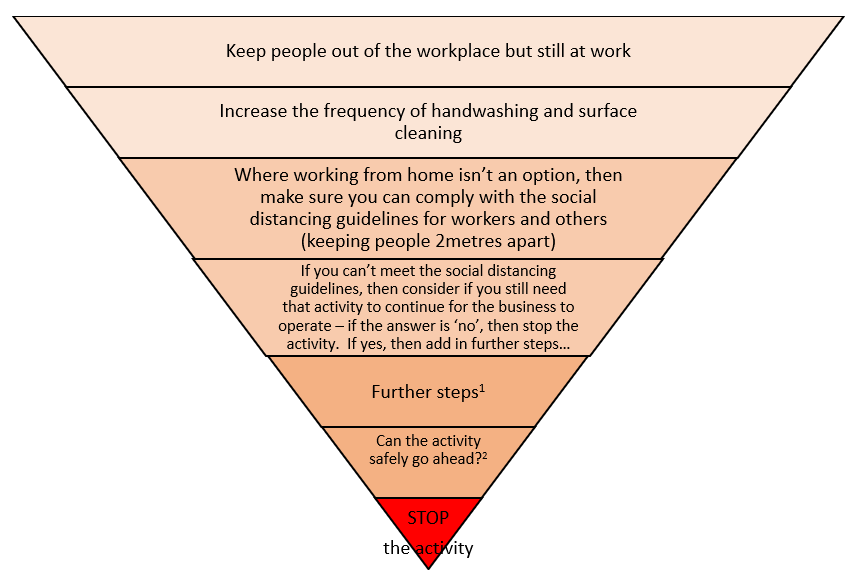 Risk mitigation steps include:
Increasing the frequency of hand washing and surface cleaning
Keep the activity time as a short as possible
Use screens or barriers to separate people from each other
Use back-to-back or side-to-side working, rather than face-to-face
Use fixed teams or partnering up, to minimise the number of people each person has contact with
Remember that your health and safety obligations to your employees and others mean that no-one is obliged to work in an unsafe work environment.
Let's explore these steps and what they mean in a retail environment…
Working from home and keeping workplaces safe
Which of your staff need to be physically present and who can work at home? What's the minimum number of people who really need to be on site?
For those that work at home, how will you keep in touch and keep them connected to their colleagues? Keeping connected is important for security and welfare (so you'll need to think about technology and equipment and access to work systems), but what about mental health too - not everyone enjoys or can adapt easily to lone working. This guide from Mind contains some tips about how to support the wellbeing of teams and colleagues while working at home: https://www.mind.org.uk/workplace/coronavirus-and-work/tips-for-supporting-yourself-and-your-team/
For clinically vulnerably and extremely vulnerable workers, there is more detailed guidance in the full Working Safely guide. Remember that equality in the work place is important and it's against the law to discriminate against anyone because of a protected characteristic such as age, sex or disability.
Anyone with symptoms of COVID-19 or who has received a positive COVID-19 test result, should immediately self-isolate at home, according to the latest Government guidance: https://www.gov.uk/government/publications/covid-19-stay-at-home-guidance/stay-at-home-guidance-for-households-with-possible-coronavirus-covid-19-infection
What to do if someone at work might have COVID-19?
https://www.acas.org.uk/working-safely-coronavirus/if-someone-has-coronavirus-at-work
In relation to apprentices you may have: https://www.gov.uk/government/publications/coronavirus-covid-19-apprenticeship-programme-response
Social distancing - a unique challenge for every retailer
The very nature of the retail operation means that the responsibilities of the employer towards people who are employees, customers, contractors, apprentices, vulnerable workers, volunteers, visitors and all others who might be affected by it are wide-ranging and varied.
The extent of social distancing that you need to put into place to protect all these people will depend on the nature and scale of your intended operation, when you're ready to trade again
Social distancing - Your employees and other workers
The key point here is about maintaining a 2 metre gap between individuals, when arriving, during work, during breaks and when departing.
If 2 metres cannot be achieved, then 1m + risk mitigation is acceptable.
Risk mitigation means as many of the risk mitigation steps listed on page 13, as possible.
Two metres is still the preference for social distancing.
The lengths you will need to go to depend on your unique circumstances, i.e. how many people, what they are doing and where they need to go, etc.
When arriving and departing - would staggering times of arrival and departure help? Having more entry/exit points, one-way walking systems, alternatives to touch-pad entry systems?
What about additional handwashing facilities (or hand sanitiser where this isn't possible) at entry and exit points?
If shared vehicles bring staff to work, leaving seats empty might achieve sufficient space. For those that will cycle or walk, is there anything you can introduce to help with this - more bike racks?
Can you restrict movement by using radios or telephones? If there are lifts which must be used, can you restrict occupancy and provide hand sanitiser? Mark floors to encourage a one-way flow and remind people of social distancing requirements.
The NHS's Test and Trace team needs your help! Some types of retailers are being asked to collect details of staff, customers and visitors in the event of being contacted by the Test and Trace team, to help stop the spread of COVID-19. Check this link to see if your retail type is included: https://www.gov.uk/guidance/maintaining-records-of-staff-customers-and-visitors-to-support-nhs-test-and-trace#sectors-that-this-guidance-applies-to
Workstations
Ideally, these will be assigned to a single individual as a simple way to achieve the distancing requirements. Consider using floor tape or paint as a reminder of what 2 metres looks like. If shared, then shared by the smallest number of people. Can you make any changes to workstations to give individuals their own space? If workstations need to be shared, then cleaning and sanitising between different occupants will be needed. The typical 'hot desking' swift turnaround will need careful rethinking!
Consider if this particular activity at this workstation must still go on and stop the activity if you can. If it's essential, then what else can you do to separate people?
Further steps will be needed in addition to the risk mitigation steps on page 13, this could mean other things like minimising contacts around transactions (e.g. contactless payments) and stopping promotional displays nearby.
Meetings
From outside the workplace, using conference calling or video calling platforms for multiple access has been the saviour of many businesses. When inside the workplace, there's no reason not to use it too, if it means avoiding creating crowds in a single room. If getting people in a room together is the only option, then be sure it can accommodate all at 2 metre spacing. Avoid sharing stationery, or providing shared refreshments (e.g. communal water stations), keep the room well ventilated and provide hand sanitiser.
Common areas - for breaks
Much of the above can be applied to common areas too. Are there outside areas which could be used, or non-used areas and larger rooms? Would a reconfiguring of tables and seating achieve the 2-metre (or 1-metre plus risk mitigation) distancing requirement?
Workers will need to bring their own food and drink and ideally stay on site to minimise the risk of spreading contamination. Can you provide any additional locker space to help with this?
Social distancing - Your customers, contractors, visitors and others
Customers, contractors, visitors and others who might come onto your premises will be more unfamiliar with its layout than your employees. They might be less likely or willing to read and take your instructions on social distancing and the way you are operating. They might have a physical disability which means they are unable to comply with your requests.
Your objective here is to do your very best to communicate your messages clearly so that everyone knows what to do and can play their part.
This means:
Provide clear guidance on social distancing and hygiene when people arrive. Use signage and visual aids to help with the messaging
If relevant for your operation, think about having a 'welcome' person out front who can remind people of the rules and manage the flow of those coming into your premises
Provide hand sanitiser and encourage customers to use it as they enter, to help reduce the risk of transmission via touching products, door handles, etc.
Remember it is your responsibility to make sure that people in your retail premises are safe. If the behaviour of anyone jeopardises this (because they refuse to follow the COVID-19 rules you've put into place) then you should ask them to comply or leave.
For customers, you can limit the number of people at a time within your store - your risk assessment will help you determine how many this might be, taking into account corners, busy areas and any 'pinch points.' Ask that customers shop alone, wherever possible and avoid handling products unnecessarily. If shopping with children, remind customers that everyone (including children) should follow social distancing guidelines. Queue management and one-way flow signage will also be sensible.
If you would normally offer assistance to customers, such as lifting heavy objects with a customer, allocate fixed pairs of colleagues instead. Those offering verbal assistance to customers should do this from a distance.
Put any reasonable adjustments into place, such as changes to entries, exits and queue management, for those who might need them, including disabled shoppers.
What about PPE (Personal Protective Equipment) and face coverings?
It's important to note that there's a big difference between PPE and face coverings.
PPE means gloves, eye protection, face masks, safety helmets, high-visibility clothing, safety footwear and safety harnesses for protecting the user against risks at work. A retail activity would not typically require the use of PPE following a risk assessment of the work activity. PPE in the context of COVID-19 is what is used in a clinical setting, like a hospital or care home. If your retail risk assessment shows that the risk of COVID-19 transmission is very high, then it must be provided to workers who need it.
Face coverings have been suggested by the government as marginally beneficial, not for protecting the wearer but more likely to help protect others if the wearer is infected. If workers choose to wear a face covering then you need to help them wear it safely. This means reminding them of handwashing before and after wearing a covering, avoiding touching the face, not to remove it to speak to people and change it if it becomes damp…and above all, that a face covering is no replacement for social distancing. Don't let the wearing of face coverings provide a false sense of security for your workers or others who come onto your premises.
Face covering and members of the public
From June 2020 it became the law that members of the public must wear face coverings in some settings. There are exemptions for some people and in some situations. Check the latest on this topic here, including how to wear and make a face covering:
https://www.gov.uk/government/publications/face-coverings-when-to-wear-one-and-how-to-make-your-own/face-coverings-when-to-wear-one-and-how-to-make-your-own
Cleaning and hygiene
Proper cleaning and disinfection helps minimise the risk of spreading viruses. This is why cleaning will be a big part of your COVID-19 risk assessment. It is important to think about cleaning prior to opening up again and to revise your cleaning procedures (and share with those involved), so that new arrangements are clear.
Before reopening - check ventilation systems and window openings to make sure this is effective as possible. Stock up on cleaning equipment - the right cleaning equipment - and how to use it. Provide hand sanitiser too, from a reputable supplier (unfortunately, there are many fakes on the market which do not offer the required protection).
PHE has produced cleaning guidelines for non-healthcare settings - the entire guide can be accessed here: https://www.gov.uk/government/publications/covid-19-decontamination-in-non-healthcare-settings
Legionnaires' disease
Hot and cold water systems that have been closed down are at an increased risk of hosting pathogens like Legionella bacteria. Health and safety law requires that you manage this risk to keep people safe. This document will help you with the task: https://www.cieh.org/media/4208/legionella-guidance-covid-19.pdf
Fortunately, normal cleaning methods (if done well), do kill this virus, so your usual cleaning arrangements are likely to be sufficient.
Using disposable cloths or paper roll and disposable mop heads, to clean all hard surfaces, floors, chairs, door handles and sanitary fittings, following one of the options below:
Use either a combined detergent disinfectant solution at a dilution of 1,000 parts per million available chlorine
or
A household detergent followed by disinfection (1000 ppm av.cl.). Follow manufacturer's instructions for dilution, application and contact times for all detergents and disinfectants
or
If an alternative disinfectant is used within the organisation, this should be checked and ensure that it is effective against enveloped viruses
Remember to check the instructions as use as directed, assessing and managing any risks as part of your COSHH assessment (guidance on this is here: https://www.hse.gov.uk/toolbox/harmful/coshh.htm
Focus especially on high-contact areas such as bathrooms, door handles, telephones etc. Avoid splashes and sprays and dispose of cloths and mop heads in waste bags.
Frequent cleaning of workstations, surfaces and equipment as well as tills and self-checkouts and hand-held devices is vital. Assess your site and plan ahead as to what's needed and how often.
Remind everyone on site to handwash or use sanitiser frequently using the right technique. Free posters from the World Health Organisation might help with this:
https://www.who.int/gpsc/5may/resources/posters/en/
..and don't forget personal hygiene - use signs and posters to build awareness of good personal hygiene for everyone. This means three really important behaviours: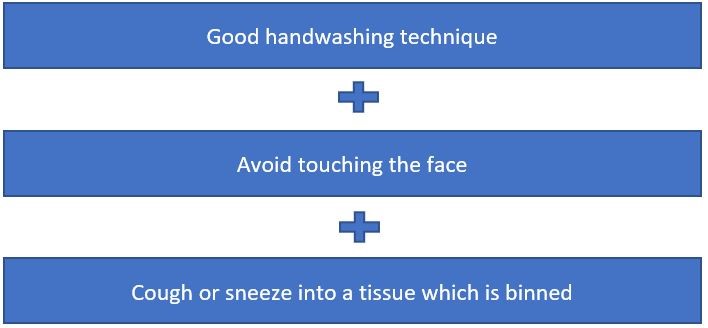 Ventilation
Good ventilation is increasingly being recognised as a valuable mitigation step when reducing the risk of COVID-19.
Good ventilation should already be present in a work environment, whether by the opening of windows (with screening if necessary) or via air conditioning (fresh, not recirculated air).
Remember to monitor/check filters in accordance with the manufacturer's instructions.
Cleaning after a suspected COVID-19 case?
See here for special arrangements, if needed: https://www.gov.uk/government/publications/covid-19-decontamination-in-non-healthcare-settings/covid-19-decontamination-in-non-healthcare-settings
Items tried for size, rentals and returned goods
Fitting rooms used for the most essential purposes, such as key workers trying on protective clothing, should remain open but cleaned very frequently, ideally between each use. For more typical fitting rooms, such as those in department stores, these should remain closed because of the challenges in operating them safely.
Having to close fitting rooms will inevitably result in a larger number of returned goods. Items will have been handled by customers prior to return. Introducing a 'no contact' return point will be sensible where possible and practicable - where customers take their goods to a designated area for a refund (which should ideally be contactless). Storing returned items for a minimum of 48 hours in a room designated for this purpose enables any COVID-19 contamination to reduce, naturally. If possible, items should also be cleaned appropriately before displaying them for sale again.
Beds, furniture and other items which may be sat on or touched at great length should be provided with a suitable cover that can be cleaned between uses.
Rental equipment and vehicles will inevitably have a large number of touchpoints. Your revised cleaning and disinfection procedures should take account of this.
Goods - inbound and outbound
Like all other activities described so far, the objective here is to maintain social distancing. In addition, goods will have been handled prior to delivery and therefore surface transmission of the virus via goods is another key consideration for a retailer. This is more of a challenge in high throughput situations. Some of the main things you might consider here are:
your drop off and collection points - their location and signage
enabling non-contact deliveries as much as possible and fewer deliveries by ordering larger quantities
unloading with single workers, not multiple (which will take longer)
drivers - their welfare arrangements on site, which might include asking them to stay in their vehicles if at all possible
Work-related travel and deliveries to other sites
If your business requires workers to travel between locations, try to minimise this in favour of remote working options. Where shared transport is typical, use fixed travel partners, increased ventilation and avoid face-to-face seating.
Vehicles you provide must be cleaned and sanitised between shifts or before handover.
When delivering to other branches or sites or to customers' premises, social distancing and hygiene practices will apply.
See also the guide within Working Safely on Vehicles.
Mishaps
In an emergency, for example, an accident or fire, people do not have to stay socially distanced if it would be unsafe.
People involved in the provision of assistance to others should pay particular attention to sanitation measures immediately afterwards including washing hands.
You'll already be familiar with RIDDOR reporting (the reporting of accidents, diseases and dangerous occurrences) and for COVID-19 there's clarification from the HSE on when to make a report: https://www.hse.gov.uk/news/riddor-reporting-coronavirus.htm
NHS Test and Trace - keep a temporary record of where your staff are working and their shift patterns for 21 days, in case you are contacted by Test and Trace. This could help contain outbreaks.
If you've read and implemented the above, then you've complied with the Government's COVID-19 poster and can now proudly display it. You'll also be well on the way to getting back to business. One last thing….
Communicating with your workers
It's sensible to get in touch with those returning to work to make sure they understand the new COVID-19 arrangements that you've put into place and have an opportunity to ask questions and raise any concerns. These new arrangements might need some communication or training materials too. If appropriate for your organisation, engaging with existing worker representative groups will be sensible. For smaller set-ups, arranging a collective conference call or video call might work well and also give teams a sense of 'togetherness.' Keep these communications (and any associated procedures) ongoing as arrangements may change in the future.
Need more help?
If you need extra help on risk assessment over and above what you can find on the HSE's website via the links provided, then your local authority environmental health service is most likely to be able to help you.
The HSE enforces health and safety law too, but in higher risk environments. Between them, the HSE and local authorities regulate a diverse range of work activities and workplaces. You can find your local authority here:
https://www.gov.uk/find-local-council
Local authorities are usually responsible for supporting retail businesses in their areas to comply with health and safety law and will usually be responsible for enforcing it too, if needed. Most local authorities will have additional COVID-19 help and information on their websites that is appropriate for their local communities and businesses. If you have a Primary Authority partnership, either directly or via a trade association, this will be a great source of further help too (see https://www.gov.uk/guidance/local-regulation-primary-authority ).
The HSE has a COVID-19 hotline for enquiries (0300 790 6787) and an online enquiry form: https://hsegov.microsoftcrmportals.com/workingsafelyenquiries/