Last updated: 9 July 2020
There is separate guidance for transport organisations here: https://www.gov.uk/government/publications/coronavirus-covid-19-safer-transport-guidance-for-operators/coronavirus-covid-19-safer-transport-guidance-for-operators
Workers in this context are those for whom you are responsible under health and safety law. This means employees (full or part time, temporary or permanent) or a young person on work experience or an apprentice. Self-employed people are responsible for their work activity if it poses a risk to the health and safety of others.
Agency staff will be the responsibility of the agency who is providing the person to you up to the point at which the worker is introduced to you, after which, the worker is your responsibility in the same way as an employee.
Workers have a duty to take care of their own health and safety and that of others who may be affected by their actions at work.
A COVID-19 Risk Assessment
Risk assessing a vehicle worker in relation to COVID-19 applies to what happens inside the vehicle as well as what happens when the worker gets out of the vehicle, i.e. what they touch and who they interact with.
You may employ vehicle workers each with different arrangements for their work. This is why it is best practice to involve workers in the carrying out of risk assessments whenever possible – it shows that you take their health and safety seriously.
Remember that the law requires you to:
Consult with a recognised trade union, if there is one, or if not, a representative chosen by your workers, not by you. Share with your workers the results of the risk assessment. Write down your risk assessment if you have five or more workers.
Above all, make sure all workers understand COVID-19 safety procedures and keep people updated if things change
Many individuals working in a vehicle will be lone workers (e.g. couriers). In other circumstances there might be two or more workers, required to work together as a team (e.g. refuse collection crews). Some tasks might involve collecting or transporting other people, such as taxis carrying passengers or car dealerships offering test drives.
All of these scenarios present COVID-19 as a hazard and you must assess the risk presented by it and control that risk, in all the scenarios you are responsible for.
Some of the main challenges are:
Lone workers: not having anyone to help if things go wrong
Workers who share a vehicle with other workers: not being able to adequately socially distance
Workers who collect and transport members of the public: the uncertainty - their knowledge of COVID-19 and their willingness (or ability) to behave appropriately
Think about any vulnerable or extremely vulnerable workers that you may have and how best to protect them (see this government guide for definitions of both: https://www.gov.uk/government/publications/staying-alert-and-safe-social-distancing/staying-alert-and-safe-social-distancing#clinically-vulnerable-people )
You are responsible for protecting the health, safety and welfare of 'other people who might be affected by your business' so this includes those who your worker might come into contact with, perhaps unexpectedly (passengers, customers, car park operators, members of the public, petrol station operatives, etc.) inside or outside of the vehicle.
Here's a suggested hierarchy of measures for you to consider, in carrying out your COVID-19 risk assessment for vehicle workers.
Remember that the wearing of face coverings on public transport is required by law: https://www.gov.uk/guidance/coronavirus-covid-19-safer-travel-guidance-for-passengers
A little note about PPE and face coverings:
If you already provide PPE for workers to protect them from health and safety risks at work (e.g. helmets, gloves, eye protection etc.), then continue to do so.
It is not recommended that you provide additional PPE (or face coverings) solely for COVID-19 reasons. This is because social distancing, hygiene and fixed teams (and other mitigating measures) are more effective.
There's more information here: https://www.gov.uk/guidance/working-safely-during-coronavirus-covid-19/vehicles
The NHS's Test and Trace needs your help! Keep a record (it can be a temporary record) of your staff shift patterns for 21 days, in case you are contacted with requests for information - it could help contain outbreaks later on.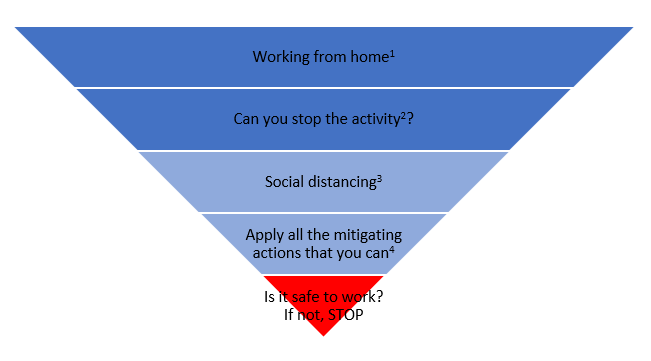 Let's explore what each of these criteria might mean for you:
Work from home: Working from the safety of home is a top priority, where this is possible – whether for part or all of the job. If the job can be reconfigured to achieve this then it's a positive change and you'll just need to make arrangements to keep in touch with the worker and for them to stay connected to the rest of the workforce. This may mean providing equipment for remote access to work IT systems. It also includes making sure that arrangements for their welfare and security are appropriate and are in place.
However, by its very nature, workers who operate from a vehicle are involved in transporting something (i.e. themselves, goods or other people) from one place to another. Therefore, in most cases it won't be practical to simply switch to home working.
Stopping the activity: Are there any non-essential aspects that you can simply and legally stop doing, in order to reduce the risk? e.g. agree to deliver goods where only one worker is needed for unloading, instead of two?
Assuming 'working from home' and 'stopping the activity' are not feasible, then:
Social distancing: The objective here is to maintain a 2 metre gap between individuals whenever possible. If a 2-metre gap cannot be achieved, then 1 metre is acceptable with risk mitigation measures in place too. This is an important control measure but one which is very difficult to achieve, given the inherent space constraints of vehicles. Consider the nature of the job from arrival, during the day, during breaks, interactions with others (including colleagues, customers and anyone else who might be encountered), the handling of goods, the journey home, unforeseen events and think about how the hazard of COVID-19 may present itself at each of these stages.
Inside the vehicle
Lone workers
More than one worker sharing a vehicle at the same time
Collecting/transporting other people
Social distancing is not a problem within the vehicle
Insufficient space unless vehicle is very large
Insufficient space unless vehicle is very large

*Mitigating measures could include:

Avoid multiple occupancy or shared vehicles where possible
Ensure good ventilation
further increasing the frequency of hand washing and surface cleaning
signage to remind of social distancing requirements
keeping the activity time involved as short as possible
using screens or barriers to separate people from each other
using back-to-back or side-to-side working (rather than face-to-face) whenever possible
reducing the number of people each person has contact with by using 'fixed
Fixed teams or partnering (so each person works with only a few others)

*Mitigating measures could include:

Ensure good ventilation
signage to explain social distancing arrangements
Consider the needs of some customers, such as those who are hearing or visually impaired
further increasing the frequency of hand washing and surface cleaning
keeping the activity time involved as short as possible
using screens or barriers to separate people from each other
contactless payments
Outside the vehicle and during deliveries:
Remember that social distancing applies to all parts of the business, not just inside the vehicle, but break rooms and all areas where workers congregate.
Stagger working hours to reduce crowding
Single workers for loading/unloading where possible
Avoid physical contact with another person when handling goods
Provide additional parking or bike-racks
Limit corporate vehicle sharing
Keep workers to the same transportation routes
Contactless refuelling and deliveries
Electronic paperwork
Look at pick-up and drop-off locations and signage
Plan deliveries to a previously agreed area, perhaps click and collect
Consider welfare facilities and access to them
Apply all the risk mitigation measures that you can
Hand washing and surface cleaning
Along with social distancing, cleanliness is the most important mitigating step and one which will be a part of your COVID-19 risk assessment for vehicle workers.
The steps you are likely to take, having considered the nature of the work and all who may be affected by it, are:
Handwashing before using a vehicle and afterwards
Hand sanitiser available for use in vehicles
Cleaning vehicles in between shift changes/uses
Special cleaning attention on door handles, fuel pumps, keys etc
Adequate waste disposal of cleaning materials
Signage to remind workers of good handwashing technique and avoiding touching the face
Toilet facilities – available for use and cleaned regularly. Hand sanitiser/washing facilities provided
Facilities (lockers, showers etc) – clear standards for use to ensure they are kept clean
See also the mitigating measures for inside and outside of the vehicle, later on in this annex.
Is it safe to work?
Having taken all the above steps, are you confident that the activity can still go ahead, safely? If the answer to this is 'no' then you must stop this activity.
Remember that your health and safety obligations to your workers mean that no-one is obliged to work in an unsafe work environment.
Back to top