Last updated: 9 July 2020
Food businesses that prepare and serve food only for take-away or delivery are currently allowed to trade according to lockdown rules (https://www.gov.uk/government/publications/further-businesses-and-premises-to-close/further-businesses-and-premises-to-close-guidance)
Sit-in eating and drinking on the premises is not allowed. This is because a sit-in eating environment inevitably causes people to be in close proximity to one another and this makes it difficult to meet social distancing and hygiene requirements.
Relaxation of planning rules for pubs and restaurants
To enable swift diversification for restaurants and pubs who wished to provide food in these restricted circumstances for the first time, 17th March 2020 saw the relaxation of planning rules for pubs and restaurants, for twelve months. This enabled a change of use from a restaurant (A3 use class) or a pub (A4) to a hot food take-away. Of course, many pubs and restaurants (as well as mobile caterers, hot food take-aways etc.) were already providing food in this way because their planning use class allowed them to do so.
This annex is relevant for you if your food businesses provides food by take-away or delivery, whether or not you were trading like this prior to the relaxation of planning rules.
All food businesses operators must consider the risk from COVID-19 as an additional element of their existing food safety management system, whether that's Safer Food Better Business (SFBB) or Hazard Analysis and Critical Control Point (HACCP) procedures.
This annex will help you by summarising in brief, all the tasks and topics that you as the Food Business Operator (FBO) need to think about. It provides prompts and links to some of the most important external sources for further information and help.
First things first
Whether you are new to providing food via take-away or delivery, or are about to re-open or have been doing it for a while, here's some additional information:
The Business Companion Food & Drink guide (see https://www.businesscompanion.info/en/quick-guides/food-and-drink)
The Food Standards Agency (FSA) is the government department responsible for food safety and food hygiene in England, Wales and Northern Ireland. It works in partnership with local authorities to help ensure food stays safe and honest. The responsibility for complying with the law remains with the food business operator – the FBO. The FSA's website contains lots of information, written for businesses, which explains what any food business should be doing when starting up or operating a food business. All the basics are here: https://www.food.gov.uk/business-guidance/safer-food-better-business
https://www.food.gov.uk/business-guidance/food-safety-for-food-delivery
The Chartered Institute of Environmental Health (CIEH) represents environmental health professionals and has produced a collection of free resources for businesses and professionals relating to COVID-19. This includes topics like signage, handwashing guidance and Legionnaires' disease https://www.cieh.org/policy/coronavirus-covid-19/resources/
CIEH has also produced 'Food delivery and takeaway guidance' which contains further information to supplement what you read here https://www.cieh.org/media/4070/covid-19-food-delivery-and-takeaway-guidance.pdf
The Government's 'Working safely during coronavirus (COVID-19)' contains a separate guide for restaurants offering takeaways or delivery – the key elements of which have been included in this Retail Guide and also in this annex to it https://www.gov.uk/guidance/working-safely-during-coronavirus-covid-19/restaurants-offering-takeaway-or-delivery
Are you a new take-away or delivery business?
If you're new to this, here are the top three things to think about:
Register your food business with the environmental health (or food safety) team in your local authority. Why? So local authorities know that you're there and can help you get things right from the start. In time, you will also be inspected by your local authority and receive a hygiene rating. Evidence shows that businesses with a high rating helps them win more customers! For more information see: https://www.food.gov.uk/business-guidance/register-a-food-business#food-hygiene-rating-scheme
Don't know who your local authority is? Search using your postcode, here: https://www.gov.uk/find-local-council. Many local authority websites provide additional food safety and COVID-19 advice and support for businesses in their areas.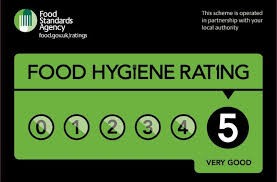 Want to check on the rating given to a business? Click here: https://ratings.food.gov.uk/default/en-GB
Plan ahead: There's lots to think about prior to trading. Choose the right premises, think about fire safety, training, food labelling and packaging, equipment capabilities, ingredient sourcing (traceability)…and much more. https://www.food.gov.uk/business-guidance

Food hygiene in any food business is, of course, vital and you as the FBO are responsible for it. This involves implementing the '4Cs of food hygiene': cleaning, cooking, chilling and cross-contamination, which will be part of your food safety management system. Storage, transportation and temperature control are also very important and your staff must receive the appropriate supervision and training in food hygiene for the job that they do. There's more on this here: https://www.food.gov.uk/business-guidance
Planning to re-open your take-away or delivery business?
If you are reopening during COVID-19 after a period of inaction, here's a checklist from the FSA to help you: https://www.food.gov.uk/business-guidance/reopening-checklist-for-food-businesses-during-covid-19
The checklist includes things like:
telling your local authority of your intention to restart
updating your food safety management system (new procedures, allergens, packaging, staff fitness to work, etc.)
waste removal (are your waste carrier services up and running, to avoid any build-up of waste on site?)
site checks (cleaning and disinfection of surfaces and tools, products and cloths2, staff training, pest control checks)
handwashing and facilities for it (sufficient soap, sanitiser, paper towels, staff training, hot and cold water at sinks)
equipment (fridges, chillers, freezers and cooking equipment - all working properly and at desired temperatures? Cleaning, maintenance schedules, calibrations, flushing of taps and other equipment, probe thermometers and probe wipes, consider legionella3
ingredients (stock levels and obtaining new stock, any damage to packaging? Are use-by dates OK? Any new suppliers – are they reputable?, allergen information – accurate and sufficient?
social distancing measures (see links in the checklist)
A COVID-19 risk assessment for a food business
The Retail Guide explains how to carry out a COVID-19 risk assessment for any retail business.
COVID-19 is not known to be transmitted by exposure to food itself. COVID-19 can survive on hard surfaces for up to three days, so this could include food packaging and food preparation areas.
As an FBO of a food business, you must ensure that your risk assessment addresses the risks presented by COVID-19 in a food environment. This means reviewing and updating your food safety management system.
Don't forget to:
document any changes you make
keep a note of the start-up checks that you do
tell your local authority if you are starting up again after a period of closure and of any changes – this includes diversification into take-away/delivery
What should a COVID-19 risk assessment for a food business include?
The list below is a brief prompt of all the elements of your food business that you need to think about. Further information on each of these can be found in the publication by the Chartered Institute of Environmental Health (CIEH), entitled Food delivery and takeaway guidance: https://www.cieh.org/media/4070/covid-19-food-delivery-and-takeaway-guidance.pdf
The Government's 'Guidance for food businesses on coronavirus (COVID-19)' will also be useful: https://www.gov.uk/government/publications/covid-19-guidance-for-food-businesses/guidance-for-food-businesses-on-coronavirus-covid-19
Transmission risk
Your staff need to understand how COVID-19 is transmitted, what the symptoms are and what to do if they become ill. Staff must keep 2metres away from each other and customers at all times, remembering that people may be infected but not show symptoms. Look at the tasks involved in your food business and arrange them to meet this requirement, wherever they take place – front of house, kitchen, prep areas, during breaks, etc. If a 2metre distance is not possible and the activity still needs to go on, look at the 'other steps' you can introduce (see Retail Guide).
Food preparation
Allow as few people as possible into the kitchen. Space workstations out or add cleanable panels to separate them. Minimise interaction between staff, including during breaks. Put teams into shifts to restrict worker interactions. Use floor markings and signage to remind people of 2metre distancing. Introduce a one way flow. Reduce access to confined spaces, e.g. walk-in pantries and fridges.
Cleaning and handwashing
In addition to the 2metre social distancing rule, cleaning is a vital control measure. Increase cleaning and disinfection throughout the service with a special focus on work surfaces, switches and other frequent touch points. Sanitisers must comply with BS EN 1276. For handwashing: on arrival, when entering any service area, before handling food, after touching anything that customers or others may have touched…any time that hands may have become contaminated.
Ventilation
Maintain at a sufficient level for the occupancy. Open windows and doors (fly-screened if necessary) to encourage ventilation.
Cooking, hot holding and chilling
For new or existing menu items, your food safety management system should include the steps you will take to produce food hygienically and safely. Avoid cross contamination between raw/ready to eat, monitor temperatures (reach 75oC when cooking, chill to below 8oC), cool quickly. If freezing food, freeze quickly and reheat safely, consume the same day. Label and document your steps to keep track. If you change supplier, keep details.
Allergies
Communicating with customers about allergies is different when trading as a take-away/delivery service as opposed to sit-in dining – ask customers about allergies when taking orders (including online) and have arrangements in place for ensuring any allergenic ingredient is avoided.
Customers that are self-isolating or ill
Establish if this is the case at the point of ordering and put arrangements into place to protect delivery drivers.
Food packaging
Food-safe packaging will be marked like this (see pic) or marked 'for food contact.' For COVID-19 purposes, disposables are likely to be easier to manage, rather than cleaning of returns.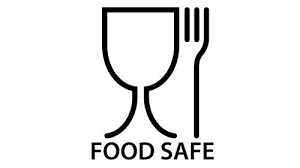 Food labelling
If your food is sold as a ready-meal (frozen or chilled), you will need to think about additional labelling; ingredients, allergens, cooking instructions etc. See https://www.food.gov.uk/business-guidance/distance-selling-mail-order-and-delivery
Delivery boxes
Not only sufficient for insulation, but easy to clean and disinfect at frequent intervals. Ice packs too, for cold foods. Remember: hot food should be provided at 63oC or above, cold at 8oC or colder. Keep records of checks that you make. Keep deliveries to a short radius, less than 30 minutes away, so that temperatures are maintained.
Drivers and riders
Insurance for vehicles used for delivery. Insurance for your business now offering deliveries. Delivery drivers are food handlers and must receive some basic training on food safety (hand washing/sanitising between customers, dropping off orders at the door and maintaining a 2metre social distancing space). Check drivers for COVID-19 symptoms and keep records of this. For driver collections, allocate a suitable area, wash hands on arrival. Keep away from the kitchen areas and avoid contact with kitchen staff or equipment.
Payments and collections
Cashless, non-contact payments are preferable on site if online payments are not possible in advance. Chip and pin machines if used, to be sanitised between uses. Designate a collection area which enables a 2m space between hand-over and pick up of the food. Regular sanitising of this area. One-in-one out, entry and exit routes and queueing at 2m distance with signage, perhaps something like this:
"Social distancing. To protect our customers and staff at this time, we are actively managing the number of customers who can come into our premises at any one time. Please make sure you stand two metres apart using the marked lines on the floor. When at the front wait behind the line until called forward. Thank you for your understanding and co-operation."
Laundry
Unforms to be washed at 60oC or higher (or use a laundry sanitising agent if the fabric won't tolerate this). Or leave in a sealed bag for 3 days then wash as normal.
Maintenance
Schedule these to reduce interaction.
Back to top