Last updated: 28 August 2020
Workers in this context are those for whom you are responsible under health and safety law. This means employees (full or part time, temporary or permanent) or a young person on work experience or an apprentice. Self-employed people are responsible for their work activity if it poses a risk to the health and safety of others.
Agency staff will be the responsibility of the agency who is providing the person to you up to the point at which the worker is introduced to you, after which, the worker is your responsibility in the same way as an employee.
Workers have a duty to take care of their own health and safety and that of others who may be affected by their actions at work.
Involve your workers and their representatives when developing new arrangements – keep them involved and share the results
A COVID-19 Risk assessment for outdoor businesses
As a responsible employer you will already have carried out a risk assessment for your operation. For outdoor businesses it will probably include things like working at height, slips, trips and falls, lone working considerations, mobile plant, tools and equipment, fire – to name but a few.
The hazard posed by COVID-19 means that you now need to include it in your risk assessment, for all of your work activities and wherever they take place. This Annex will help you identify any further improvements you need to make to reduce the risk from COVID-19 in an outdoor operation.
Work through these four steps – in the order shown here – to see if work activities are safe to continue: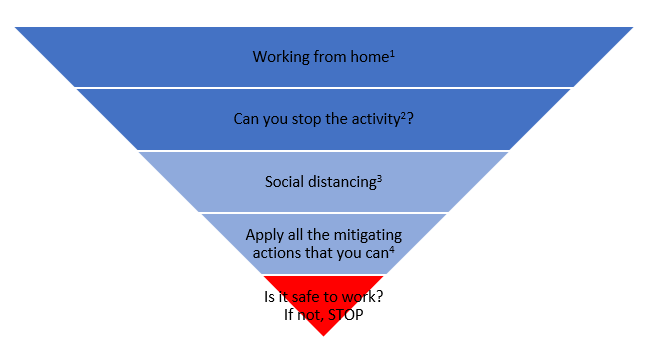 Home or mobile working instead of on site? Aim for the minimum number of people on site, deemed necessary to carry out work safely
For home workers - provide IT to keep connected – especially with colleagues – for welfare, mental health and personal security
Don't forget vulnerable/extremely vulnerable workers – see
https://www.gov.uk/government/publications/staying-alert-and-safe-social-distancing/staying-alert-and-safe-social-distancing#clinically-vulnerable-people
All of an activity or part? Only do tasks which need one person. Delay those which can wait.
Assuming 'working from home' and 'stopping the activity' are not feasible, then…
Social Distancing
Who? For all your workers
Two metres between individuals – If 2 metres is not viable, then 1 metre + risk mitigation is ok – entrances and exits – breaks – canteens – corridors
How? Stagger start and finish times – additional bike racks and lockers to encourage walking/running/cycling to work – stop or restrict passenger numbers in work vehicles – clear signage reminders – floor markings to encourage one-way movements – movement between sites – job rotation – individual workstations – change layouts - zoned work areas – bottlenecks and timeclocks – shift changes - meetings outdoors or in areas with sufficient space – touchpoint alternatives
Anyone else? For customers, visitors, contractors – visible site guidance on social distancing and hygiene explained on arrival and posted throughout site – remote working – limit the numbers – revise timings and schedules – contactless payments and paperwork
Vehicles - when receiving goods and during deliveries – electronic pre-booking – locations and procedures – signage - larger orders less often - same pairings – welfare for drivers – stay in vehicles where possible
Apply all the risk mitigation that you can
Hand washing and surface cleaning
Do you have sufficient handwashing facilities available (paper towels or electrical driers) or hand sanitiser if not?
New procedures – think frequency of cleaning - surfaces, equipment, objects, doors, touch pads – sanitise after use
Workstations
Portable toilets and equipment
Vehicles and tools – especially if taken home by workers
Showers and changing facilities
Signage – promote and encourage good handwashing technique and frequency
Suitable cleaning materials
Waste disposal – frequency of collection and how to dispose of
Hand sanitiser
Social distancing and handwashing are important – don't forget to promote your new arrangements, especially when returning to work
Other things you can do
shorten activity times
use screens/barriers to separate people
back-to-back or side-to-side working (as opposed to face-to-face)
drop-off points instead of handing tools to each other
Use fixed teams or partnering (so each person works only with a few others)
PPE?
Continue to use it only for other (non-COVID-19) risks, such as health and safety requirements when using tools. Additional PPE in a non-healthcare setting is not recommended, because social distancing and handwashing (and other mitigation steps) will usually be sufficient to reduce the risk – unless your risk assessment suggests otherwise.
Is it safe to work?
Having taken all the above steps, are you confident that the activity can still go ahead, safely? If the answer to this is 'no' then you must stop this activity.
Remember that your health and safety obligations to your workers mean that no-one is obliged to work in an unsafe work environment.
Back to top